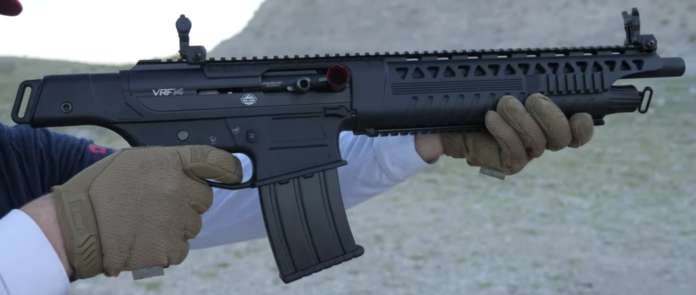 What do you get when you make a semiautomatic gun without a stock that uses a 5, 9, or 19 round magazine feeding 12-gauge shotgun shells?
Technically, it's not a shotgun, so, you get the perfectly legal Amscor VRF14 Personal Defense "Firearm." It's not a pistol. It's not a shotgun. It's not a carbine. It's a firearm.
Amscor isn't the first to this category, but they do have an interesting entry. Friedrich Seiltgen writes,
This gun class fits into the regulations niche that allowed for the manufacture of a smoothbore firearm that isn't a short-barreled shotgun (SBS).  The VRF14 has a lot of physical similarities to the AR platform, but nothing from the AR is interchangeable with the VRF14.
Seiltgen continues:
The receiver is aluminum with the 14-inch barrel, shrouded by a polymer handguard.  The handguard has a picatinny rail on top that meets with a portion of rail that is part of the receiver, as well as a rail on the bottom.  There's a sling adapter on the rear of the receiver, and the VRF14 comes equipped with flip up sights, which will co-witness with optics if you choose to add them.

The VRF14 has a unique recoil system, which Armscor calls the "Bufferbolt System."  As the bolt travels to the rear, the buffer assembly slows it down somewhat.  The gas system for the VRF14 sits where a magazine tube would sit on a standard shotgun.  The VRF14 ships with 2 different gas pistons for different power loads and a second, lighter, recoil spring.
Now, obviously, without a stock and using 12-gauge shells, this firearm has a kick. But that's true of any firearm using ammunition more powerful than .22. You need to have and maintain a tight grip to maintain control of your firearm.
Having said that, this is an interesting gun for someone who wants something a little bit different. If that's you, then, the Amscor VRF14 may be a firearm for you to consider.