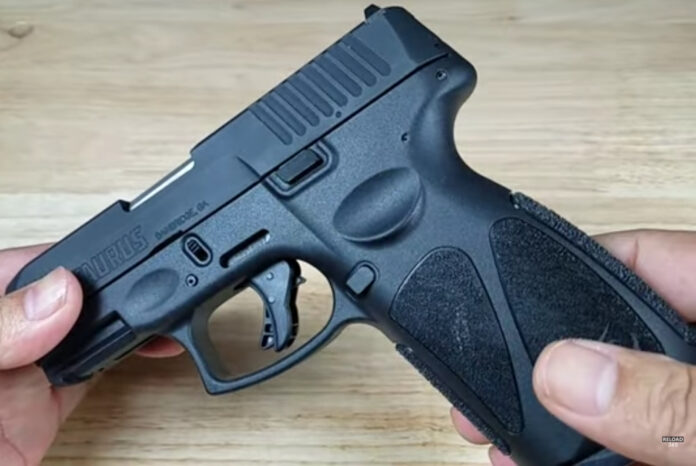 Once upon a time, semiautomatic pistols fit into clear-cut categories, at least as far as size goes. They were 1911s. Or they were subcompacts. Or they were microcompacts. You get the idea.
But with the pistol market in America still red hot, firearms manufacturers are starting to create "crossovers."
One such crossover takes the slide of a compact and puts it on a full-size frame, and what you end up with is a pistol that is very concealable with a 3.2 inch slide but a grip that you can get good solid purchase on and a 15+1 capacity. Oh, and with an MSRP of $342.98 at the time of this writing. Brad Fitzpatrick gives us details:
The original [Taurus] G3 came with a 4-inch barrel and a magazine capacity of 15 or 17 rounds. Taurus followed the G3 by introducing the G3c that same year, a compact version with a 3.2-inch barrel and 12-round capacity. Of course, many said they wanted features of both. Some wanted the greater capacity of the standard G3 with the shorter barrel of the compact G3c, so Taurus created the G3X; it has a full-size frame, 15-round capacity and a shorter 3.2-inch barrel. 
Fitzpatrick continues:
As described, the G3X features the same full-size grip frame used on the G3. That design offers about 3 1/4-inches of vertical space on the frontstrap and 3 1/2-inches along the backstrap. In other words, there's plenty of gripping surface for the biggest hands. I wear large-size gloves and my hands have space to spare around the G3X grip.
Yes, Taurus put out this pistol, and, yes, some people still have their doubts about anything put out by the company due to difficulties in the past. Having said that, the reviews for the models in the G3 line consistently come back talking about how the gun will fire anything that is fed through it even though it's an inexpensive firearm. Clearly, Taurus has been working hard to change the public's perception of their firearms by putting out a solid firearm that is a (if you'll forgive the pun) solid bang for your buck.
So, if you're willing to put aside past preconceptions about the company and if want a reliable concealable firearm for a bargain basement price, the Taurus G3X may be one to consider.