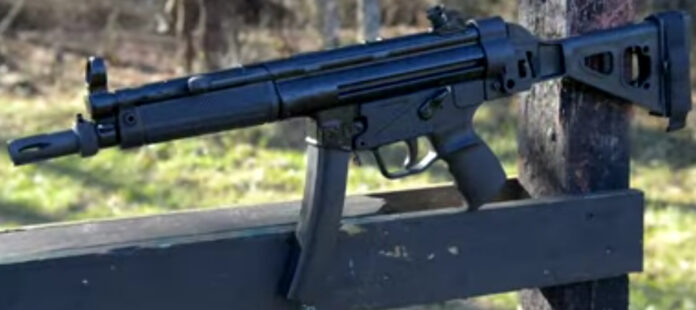 When you think of a pistol, most likely you think of many specific things. Maybe you think of a revolver, or maybe you think of a semi-automatic. If you're thinking semi-automatic, maybe you're thinking striker-fire, or maybe you're thinking hammer-fired. And, then, within all of those categories, there are the questions of brand, model, color, and a variety of other choices.
One thing is pretty clear, though, and that is that you're almost certainly thinking of a smaller firearm that may even be easily concealable.
What you may not know is that some pistols simply don't fit that concept of the small concealable firearm, and some pistols look (or, at least, can look) remarkably like carbines.
In that last category (pistols that can look like carbines) is the AP5 distributed by Century Arms in the U.S. (the same company that distributes Canik and several other brands in the U.S.). A writer going by Matt E gives us details:
The AP5 is originally made by MKE in Turkey and then imported by Century Arms. They have three model variants available on the US market. The full-size model is the AP5 and there is a K variant that comes threaded or flush fit. For this review, I decided to pick up the full-size variant. This variant weighs in at roughly five and a half pounds with a total length of around 18 inches. The standard AP5 has a number of variants with or without an SB Tactical brace and Shield Arms red dot. I opted for a standard model since I planned to turn it into a short-barreled rifle from the beginning.

When your Century Arms AP5 arrives, it will come with a quality hard case, two 30-round magazines, a gun cleaning kit, and a gun lock. In addition to all this, it also comes with a Picatinny rail mount for optics which is a nice touch to come standard. The full-size AP5 is a classic roller delayed blowback pistol, the same as any other classic MP5s on the market. The muzzle comes threaded with a 1/2×28 thread pitch with a tri-lug muzzle device attachment interface, so you'll be able to run really any muzzle device you want, but I decided to stick with the classic tri-lug set up. When it comes to sights, the AP5 comes with a fixed front sight and rear drum sight with adjustments from 100-400 yards. MSRP on the AP5 variants is $1,999.99 and they are available on the market right now.
Matt E goes on to talk about "how smooth and soft shooting these guns truly are" and that he has put "roughly 2,900 rounds through it without so much as a hiccup or oddity at all." Clearly, he is impressed with this pistol.
And, as you can see from the picture above, you can attach a stock and suppressor to this pistol which, of course, increases the length beyond normal pistol lengths.
If you want more visuals on this gun, you can see more in the video below.
If you're looking for a pistol that is "more" than a pistol, then, the Century Arms AP5 may be one to consider.